Upcoming Events at Galloping Goose

2017
Join us for 2nd Saturdays
at Galloping Goose
12 – 4 pm
Family Friendly, bring a picnic
June 10th — Restless Babe
Scavenger Hunt, Wander in the Woodland. Fun for the young and young at heart.
June 24th, 1-4pm — Sips & Sundaes: Summer Yoga Event
Who's ready for summer?! Ring in the start of the season with a family-friendly summer yoga afternoon at the beautiful Galloping Goose Vineyards located in Hampstead, MD. Local yoga teachers Bethany Britton, Karen Martin, and Emily Watcher will lead guests through a yoga session- one will be for adults and one just for kids! After yoga, stay for a wine tasting and light fare in the beautiful outdoor space at the vineyard while kids enjoy a make-your-own sundae treat. Pack a picnic, buy a bottle, and make it a special event! The cost of this event is $45 for adults and $5 per child. This price includes a wine tasting, yoga session, light fare, and sundaes for kids. Additional wine is available for purchase. Don't miss out on this fun event to kick off summer with the whole family! Click here to register online
June 25th — Sip and Paint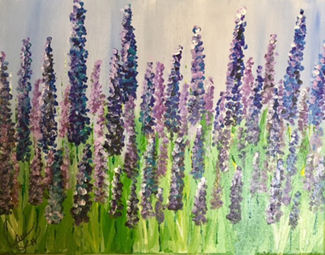 Join us on Sunday, June 25th from 1pm—3pm as local artist Dawn Fernald-Spruill will lead us in this lovely Lavender easy paint class. Cost is $35 and includes everything you will need to create this beautiful work of art as well as discounts on both by the glass and bottle purchases. Come and enjoy a lazy summer Sunday sipping a good glass of wine and express your creative side. Reservations are required. Contact gallopinggoosevineyards@gmail.com or call 410-374-6596 to reserve your spot today!
July 8th — Red, White and Blue Saturday
Enjoy the red white and blue wines with a family picnic.
August 12th — Sweet Summer Saturday
Featuring Sangria and sweet wines. (dry wines are always available)
September 9th — Grape Exchange Weekend
Pick some grapes in exchange for gentle libation. ('tis the season for wildflower and butterflies, walks in the meadow)
October 14th — Harvest Party
Enjoy Red Wines and light fare. Paint a pumpkin and Join the Great Pumpkin Toss Games (or roll if you prefer). Prizes for the winners.
November 11th — Respite before the Rush
Relax by the fire and enjoy a bit of wine and light fare. Veterans enjoy a free tasting to honor your service. Holiday gift baskets and small gifts will be ready.
December 9th — Romancing in the Holidays
Special wine and chocolate for your delight. Reservations required. Please call 410-374-6596
---